Full Circle is: Mark Richey, Deanna Webb Koebnick and Chris Koebnick

<![endif]> <![if !mso]>

<![endif]> <![endif]--><![if !vml]>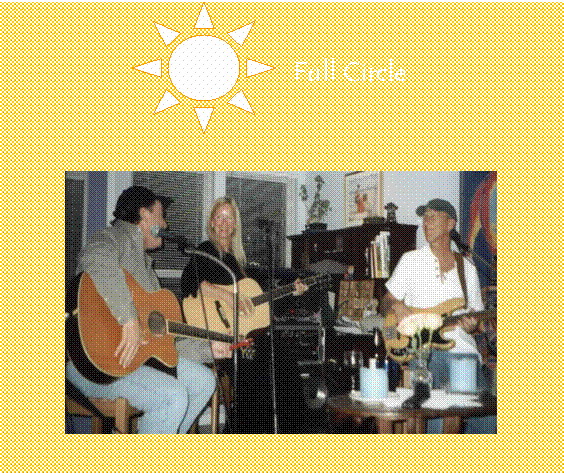 <![endif]>


Mark, Deanna, and Chris giving a house concert at Lorie Marie's

Old friends, new friends, making music together, united and reunited across the miles, that's what Full Circle is about…

Deanna Webb and Mark Richey made music together in the 80's in the popular St. Augustine based band, "Sashay", which was noted for its unusual renditions of favorite tunes and an incredible vocal harmony mix. Later, they relocated to Denver, Colorado and earned musical success there, adding originals and a recording to their achievements. As the decade came to a close, however, it seemed they would sing together no more as Mark returned to Jacksonville and Deanna moved even farther west to the ski resort town of Steamboat Springs, Colorado.

Years passed, and Deanna began bringing the then Colorado-based bands Sundog and Blue Sage Shoes to St. Augustine, playing various clubs and the Gamble Rogers Folk Festival. Her musical adventures include marrying the bass player for these bands, Chris Koebnick. Mark came out to hear the bands and support an old friend. Chris heard Mark and Deanna sing together, the attraction was instant, and a whole realm of possibilities opened for the trio. The seeds for Full Circle were planted.

There are changes, however, from the past; the group is successfully working on an original program, including songwriting together, original arrangements, and recording together. With acoustic instruments and folk themes, that same old beautiful vocal blend is there, and the magic of the music between old friends is alive and well. Full Circle produced a demo of original songs called "what goes 'round comes round". Take a listen and hear why we've come Full Circle.


Contents of "what goes 'round comes 'round':
FULL CIRCLE DEMO
WHAT GOES 'ROUND COMES 'ROUND
Mark Richey, Deanna Webb Koebnick, Chris Koebnick


1. Sundown -- Mark Richey and Deanna Webb Koebnick
guitars and vocals: Mark Richey; vocals: Deanna Webb Koebnick;
bass and vocals: Chris Koebnick

2. Bayou Girl -- Mark Richey and Deanna Webb Koebnick
guitars and vocals: Mark Richey; vocals: Deanna Webb Koebnick;
bass, vocals and lead guitar: Chris Koebnick

3. She's Everywhere -- Chris Koebnick
guitar and vocals: Chris Koebnick

4. Lift Me Up --Deanna Webb Koebnick
vocals and guitar: Deanna Webb Koebnick, guitar: R. Kelley;
bass: Chris Koebnick; percussion: Ron Wheeler

5. Morning Flyer: Mark Richey and Deanna Webb Koebnick
vocals and guitars: Mark Richey; vocals: Deanna Webb Koebnick;
bass and vocals: Chris Koebnick

6. Come What May -- Chris Koebnick
guitar and bass: Chris Koebnick; vocals: Deanna Webb Koebnick
In Memory of John Westbrook

7. Walk Into the Light -- Chris Koebnick
guitar, bass and vocals: Chris Koebnick; vocals: Deanna Webb Koebnick

8. New Roads -- Mark Richey and Deanna Webb
guitar and vocals: Mark Richey; vocals: Deanna Webb Koebnick

Back to top of Full Circle page
Copyright © 2006
Sand Mountain Music
deanna@crossroadsmusic.info
chris@crossroadsmusic.info