Sundog is a versatile fun band with an awesome song list!
SEE SUNDOG'S SONG LISTS


Sundog at the top of Mt Werner, Steamboat Spgs, CO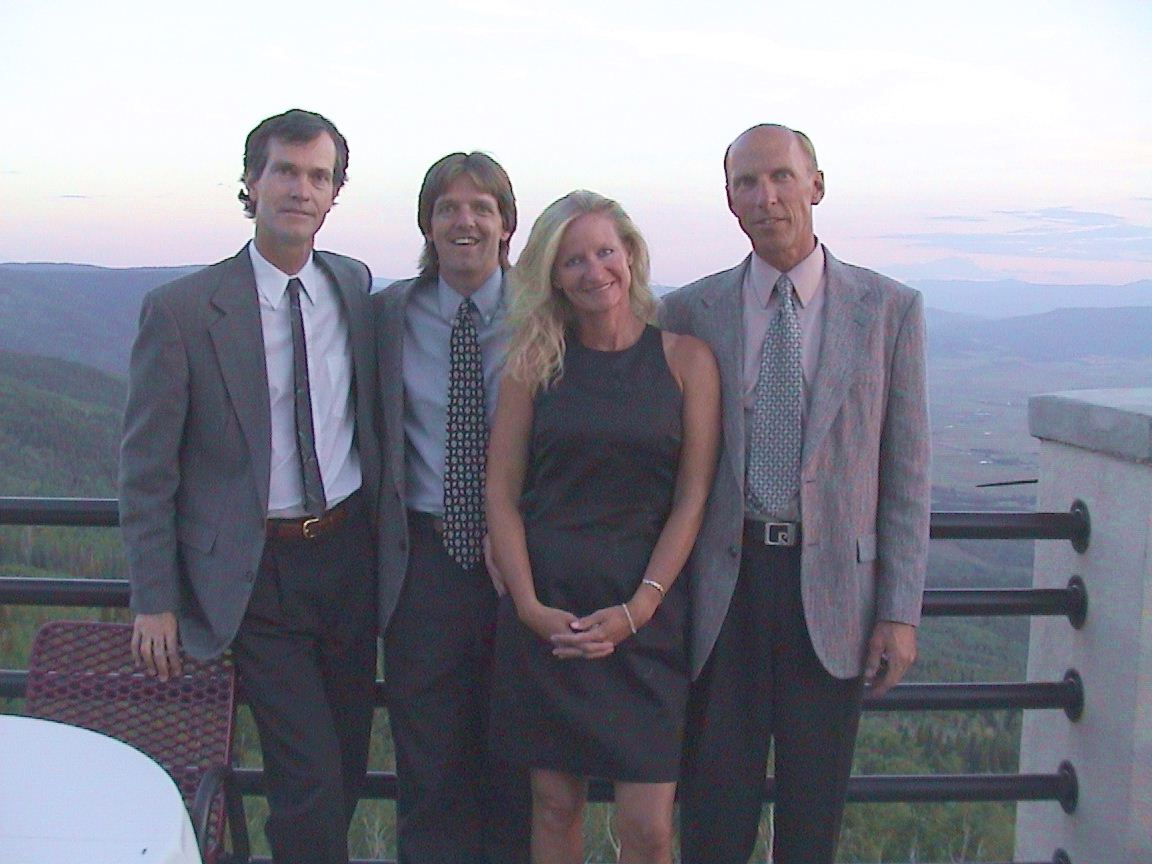 Sundog
is a wonderful musical surprise that hails from the Colorado mountain resort town of Steamboat Springs. The group represents the coalescence of almost twenty years of music making as a group, and the song lists of this band and the expertise of their performances are there to prove it. Sundog presents powerful package of covers that range from jazz to acoustic alternative folk, classic rock, country and bluegrass with three-part harmonies that can fire up an evening for even the most eclectic and discerning audience. The name "sundog" comes from the mountain term for a "rainbow" of colors created by ice crystals around the sun in the high country. Like the varied colors of a sundog, the band Sundog can please most any audience with a fun and energetic evening of varied music Sundog is: Deanna Webb Koebnick, Randy Kelley, Chris Koebnick, and Ron Wheeler.

Lead singer Deanna Webb Koebnick may be the first band member you notice on stage. Deanna's stage appeal adds to her solid rhythm guitar and outstanding vocals. Originally from the south, Deanna's southern influences are evident in her sweet harmonies and a variety of lead work, from crooning Patsy Cline classics to belting out Bonnie Raitt blues. Deanna has been in bands that have opened for acts such as Jerry Jeff Walker, Michael Murphy, Karla Bonoff, Asleep the Wheel, David Wilcox, and John Hiatt. Her songwriting also lends a unique and lovely original slant to the band's efforts.
Multi-intrumentalist Randy Kelley is sure to please with his impressive command of acoustic guitar, electric guitar, mandolin, and the ever attention-getting fiddle. Randy has performed with bands all over the U.S. and beyond, including Hawaii, Guam, the British Isles and Australia. Whether singing a backup harmony, playing a jumping fiddle tune or letting loose on soulful rock-n-roll guitar licks, many years of music-making shows in everything Randy does.
The smiling drummer for Sundog is Ron Wheeler. His experience from Denver to performing Latin and ethnic percussion, dinner theater, R&B, rock and Country and Western are evident. Rick's upbeat positive energy, sense of humor, and precise rhythms sew the musical fabric of this band together.
Last but certainly not least is the unassuming bass player Chris Koebnick. Chris is an accomplished bass player with over 20 years of experience on fretless bass as well as fretted bass playing. Although he plays all kinds of music, jazz and funk influences are evident in his singing bass leads and stylings. Chris also rounds out the trio of vocals with Deanna and Randy for impressive harmonies.
With a songlist of hundreds songs, which makes them a great request band, and the ability give dance instruction if the group would like, it is obvious SUNDOG has been around the musical block. Dressed to the nines for a formal gig or outside on a deck in shorts, SUNDOG can read the audience and play accordingly. These veteran performers possess the stage presence, polish, crowd-smarts and musical expertise to be counted on to "get the party started!"

Sundog has an album, "Sundog Live in Steamboat" that sold out a couple of years ago. Demos of the band are available. To view Sundog's song lists, click here. Just click on the category of music at the bottom (i.e., "jazz", "rock", "country", "alternative/listening" or "bluegrass/western/fiddle", and enjoy!

Sundog at the top of Mt. Werner, Steamboat Springs, CO,
dressed for the Western BBQ and with
drummer Rick Philipp.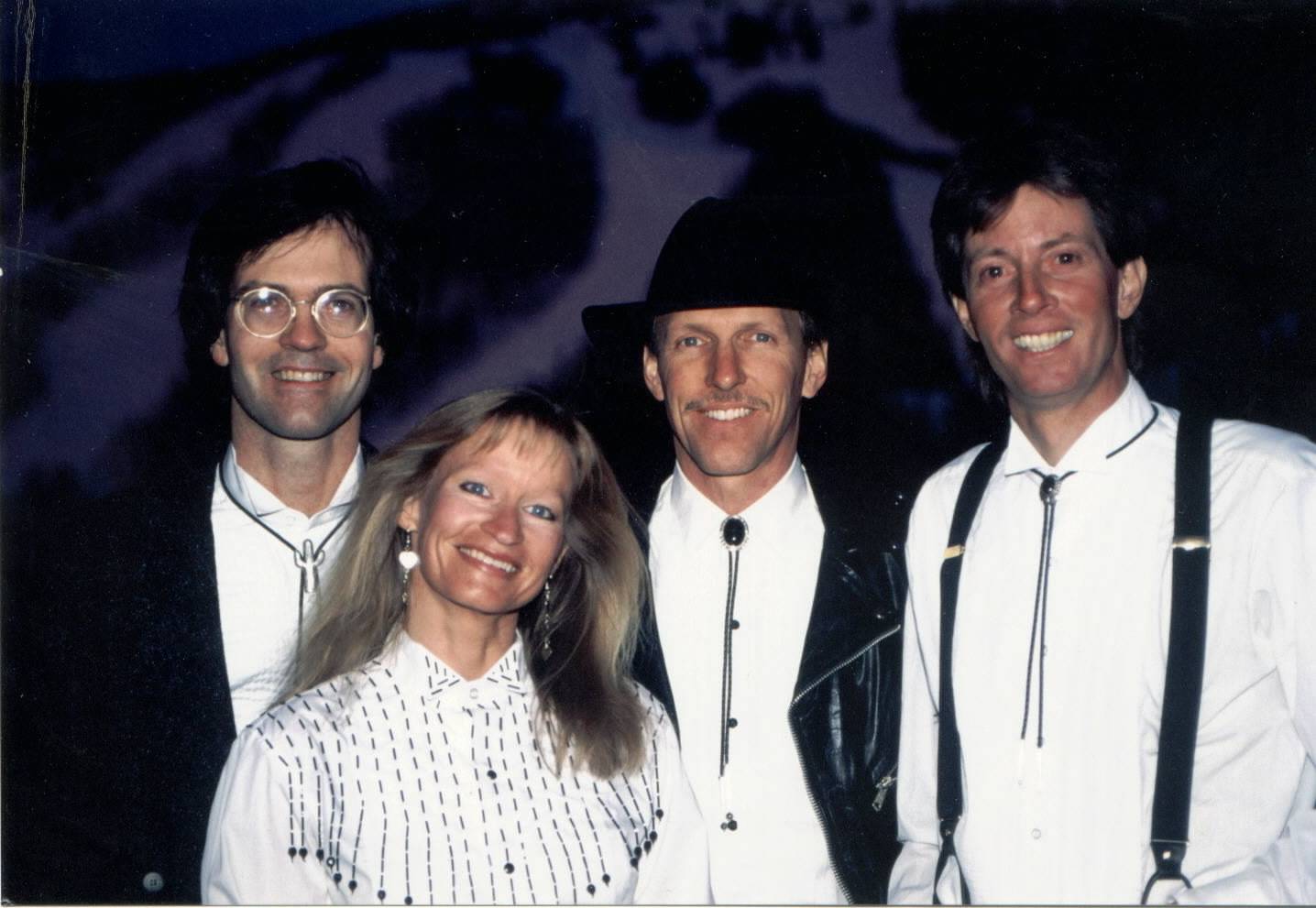 Sundog at the Bear River Bar and Grill, Steamboat Springs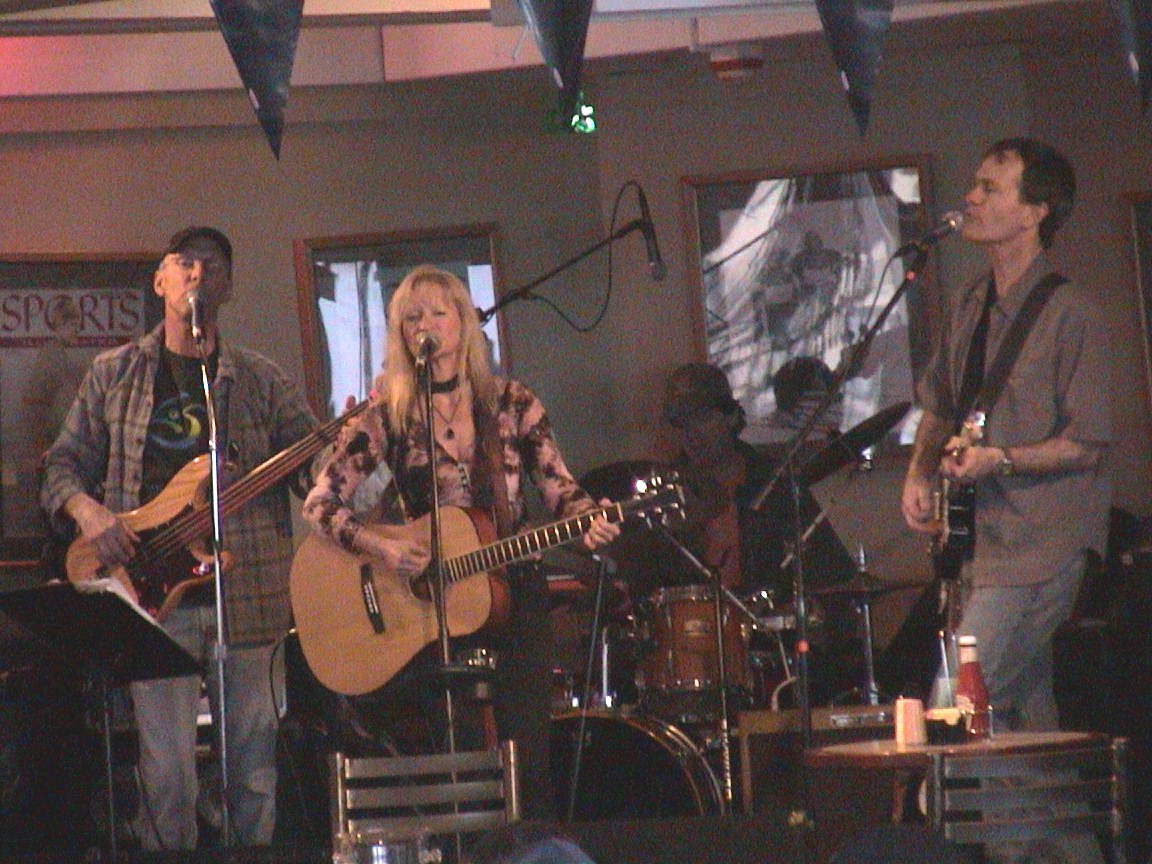 Ron Wheeler, Chris Koebnick and Randy Kelley don
black wigs during our band clean up on New Year's Eve.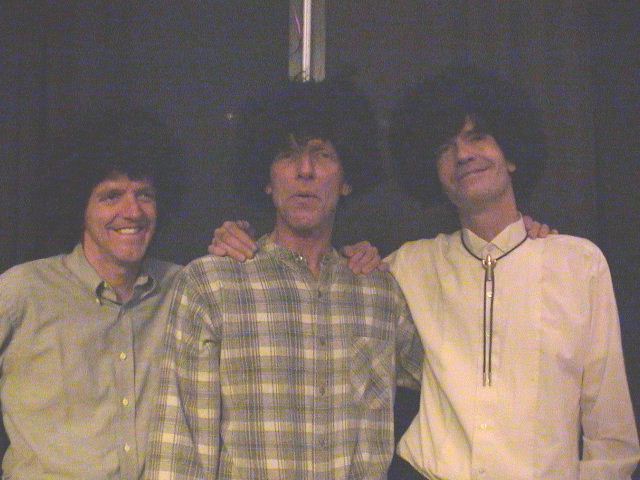 Copyright © 2006
Sand Mountain Music
deanna@crossroadsmusic.info
chris@crossroadsmusic.info